TSKALTUBO
Balneological resort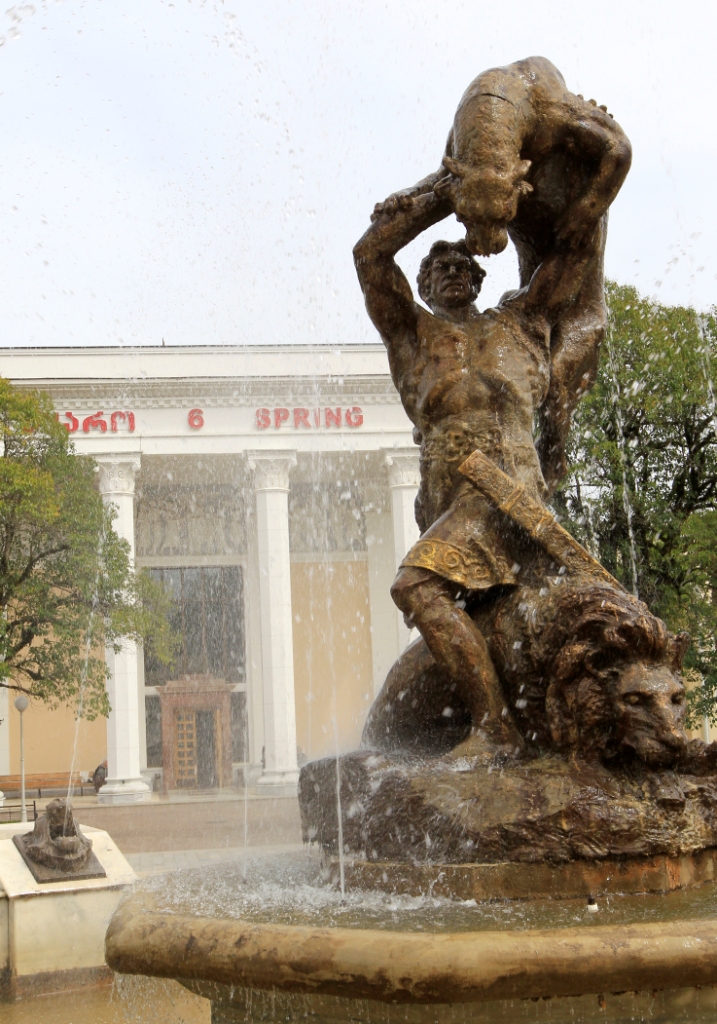 By forces of nature, mind of doctor ...
Georgian resorts: Abastumani, Borjomi, Tskaltubo are world-renowned. While Abastumani and Borjomi-type resorts are found elsewhere, there is no analogue of Tskaltubo mineral springs among the existing therapeutic waters across the globe!
(S. A. Schukarev, professor, chemist, hydrologist).
Tskaltubo is a world-renowned SPA resort. Tskaltubo is located in the central part of Western Georgia. Its climate is determined by the resort's location in the zone of humid subtropics, the proximity to the Black Sea, and its protection from cold, northern winds by the Greater Caucasus Range. Winters are mild and mostly snowless, summers - very warm and moderately humid. Sunny days are typical for the resort, although rainy and overcast weather is not uncommon.
The resort is famous for its unique radon-carbonate mineral springs. The natural temperature of the water that varies between 33 and 35°C allows its use without preheating. Naturally- warm unique water can cure illnesses such as: locomotive system disorder, cardiovascular system disease, skin and endocrine diseases, gynecological disorders, metabolic disorders, etc. Duration of the treatment varies from 14 to 21 days.
Built on the springs, Balneoservice baths #6 and #1 are located in the central park of Tskaltubo resort. Well-equipped buildings with 5 pools with mineral water, 33 individual baths, 16 rooms for hydro-massage and other facilities, make bath procedures very comfortable. Constantly flowing water ensures the preservation of its physical and chemical composition, as well as the curative properties, homogeneity, and temperature.
The services and procedures available at bath #6 are the following: mineral water bath, underwater hydro massage, aqua aerobics, underwater horizontal spinal traction, classical curative massage, physiotherapy, gynecological irrigation, Charcot shower, "circular" shower, peloid treatments, colon hydrotherapy, etc.
It is widely acknowledged that non-medical treatments play a major role in the modern rehabilitation of patients, among those balneology, in particular radonotherapy, plays a leading role.
Radon is proven to enhance the body's protective functions, strengthens the immune system, activates blood circulation, regulates blood pressure, promotes cell recovery and regeneration (after wounds and burns), has analgesic and anti-inflammatory effects, has a pronounced, sharp effect Activates cognitive functions. There was a time when the spa treatment was considered prestigious by representatives of the European elite. At present, the trend to return to natural treatment is evident worldwide.
Therefore, Tskaltubo Resort is the best base for highly effective treatment with natural remedies, and radon therapy is less costly and more effective than traditional clinical medicine.
Tskaltubo mineral water is distinguished for its all ingredients that are below the lower permissible limits.
Tskaltubo offers treatment for adult patients and children.
Recommended duration of classic spa treatment is 14-21 days.
Specificities of Treatment in Tskaltubo Resort
The wellness and curative centres, also referred as springs/sources are the balneological institutions with mineral waters - thus, they are spa treatment centres and not hotels.
The wellness centres (springs) provide curative procedures in the healing mineral water as well as different kind of other procedures to all tourists arriving to Tskaltubo and they do not provide rooming in/on spot accommodation. It is necessary to know that in Tskaltubo, this was the case before and now - that is, the tourists have never lived in the treatment centers (sources).Holidaymakers would be accommodated in hotels (formerly sanatoriums) or in private homes / apartments of local people and would visit the treatment and rehabilitation centres - sources in the past and now.
This is organized so because it is not possible to pump the mineral water of Tskaltubo at long distance as it loses its healing properties in 3-4 minutes after released from the source. That is why all types of water treatment procedures in Tskaltubo resort are carried out in constantly refreshed and flowing mineral water, therefore, consumers use mineral water at the ground level, at the water sources and not hotels. Hotels do not have the access to the mineral springs.
Famous persons on vacation in Tskaltubo
1. Georgian Patriarch Ilia II, thrice (for the first time in the 70s of last century);
2. President of Georgia, Ms. Salome Zourabichvili;
3. USSR Leader Joseph Stalin - 1931 and 1951;
4. USSR Security Minister Lavrenti Beria – 1931 and 1951;
5. President of Georgia Eduard Shevardnadze (multiple times);
6. Egyptian President Gamal Abdel Nasser - 1968;
7. Famous Georgian violinist and conductor Liana Isakadze - 1989;
8. Chess players: World Champion Nona Gaprindashvili, World Champion Maya Chiburdanidze, Nana Ioseliani, Nana Alexandria, World Champion Anatoly Karpov, World Champion Garry Kasparov;
9. USSR People's Artists, ballet dancers: Vakhtang Chabukyan, Maris Liepa, Mikhail Lavrovsky, Vyacheslav Gordeev and Ballerina Nadezhda Pavlova (wives);
10. Cosmonauts: Vitaly Sevastianov and Gennady Strekalov;
11. USSR President Mikhail Gorbachev with his wife - 1985;
12. Russian President Boris Yeltsin with his wife - 1985;
13. World-renowned Danish painter-cartoonist Herluf Bidstrup;
14. Famous conductor, People's Artist of the USSR Claudia Ptitsa;
15. Karaman Otkhmezuri - Minister of Finance of Belgium;
16. Leonard M. Weiner - Well-known lawyer (so-called "billionaire lawyer") New York, USA;
17. Gavril Popov - Moscow Mayor, PhD in Economics, Professor;
18. Stelios Logothetis - St. Mayor of Piraeus (Greece) and others.
Welcome to Tskaltubo - the world-famous balneological resort!